Paul Gauguin Museum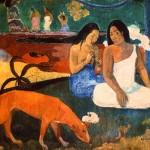 PK 51 seaside – Papeari – West coast
Phone : +689 40 57 10 58 / Fax : +689 40 57 10 42
Open every day from 9:00 am to 5:00 pm.
This museum was originally inaugurated in 1965 thanks to the efforts of Reverend Father Patrick O'REILLY and the Singer – Polignac Foundation.
It must be considered rather as a good source of information about the famous painter's life than a place where you will admire his work. Most of the art works are reproductions of his paintings but it remains an interesting visit to understand the tumultuous soul of the artist.
In the gardens, 3 nice « Tikis » from Raivavae.
Entrance fee : 600 xpf / person
Museum of Tahiti and its Islands
PK 15 – Pointe des pêcheurs – Punaauia – West Coast
Phone : +689 40 58 34 76 / Fax : +689 40 58 43 00
Open Tuesday to Sunday from 09.00 am to 05.00 pm. Closed on monday.
This museum recounts the history of Polynesia, from the islands formation to nowadays. It is located within a 5 ha park along the ocean and facing Moorea. It includes 4 permanent exhibition rooms dedicated to natural environment, maohi past culture as well as more recent history.
It features one of the richest collections of the Pacific.
Entrance fee : 500 xpf / person – Free for under 18 years.
James Norman Hall museum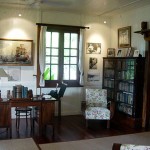 Pk 5,5 – Arue
Phone : +689 40 50 01 60 / Fax : +689 40 50 01 61
Open Tuesday to Sunday from 09.00 am to 04.00 pm.
Open in January 2002, this lovely little museum is dedicated to this major american writer, co-author of the « Bounty Trilogy ». His house stands a few yards from the sea and looks out the Bay of Matavai. Not only does it sum up his life and work, it also evokes the very special atmosphere of the
tropics in the aftermath of the World War I. James Norman Hall's library, his furniture and various personal possessions are all there on exhibition to conjure up a man who was both poet and an adventurer, in his time.
Another attraction is the Garden Tea-room, where visitors may rest and take refreshments under the shade of the mango tree.
Pearl Museum
Sea front Papeete
Phone: +689 40 45 21 22
Open Mon-Sat from 09.00am to 05.00pm
Inaugurated October 20, 1998, the Pearl Museum is unique in the world and recounts the history of the pearl from Cleopatre to today, as well as the arts, legends and techniques used. Many pearls of Tahiti are exposed among which a 28 mm diameter pearl.
Free entrance
Lagoonarium
PK 11,4 – Punaauia (behind Captain Blight restaurant) – West Coast
Phone: +689 40 43 62 90
Open every day from 09.00am to 06.00pm
Aquatic park with a gallery network containing over 4,000 different species of fishes. You can assist to the shark feeding around noon !
Entrance fees: 500 xpf/adult – 300 xpf/child from 3 to 10
Botanical Garden (Harrisson W. SMITH)
PK 51 seaside (next to the Gauguin museum) – Papeari – West coast
Phone: +689 40 57 11 07
Open every day from 09.00 am to 05.00 pm
Open in 1919 by H.W. SMITH, an American citizen passionate by botanic. Large garden offering a wide range of tropical flowers and plants.
Entrance fee: 400 xpf / person